Choose Your Challenge at Phuket Marathon: Full Marathon, Relay, Half, or Kids Run – Run Your Dream Race Today!
Welcome to the Phuket Marathon, a celebration of athleticism and the joy of running in one of Thailand's most breathtaking destinations! From seasoned professionals to aspiring runners, we offer a variety of race categories to suit every level of experience. Embark on the full MARATHON, a challenging 42.195 KM that will test your endurance, or team up with friends for the exciting MARATHON RELAY. If you're seeking a shorter distance, our HALF MARATHON offers a 21.0975 KM course that still promises the thrilling experience. For those looking for a fun and friendly competition, join the 10.5 KM and 5 KM races, or bring the little ones for a delightful 2 KM KIDS RUN. Each race provides unique opportunities to explore Phuket's scenic beauty while pushing your physical limits. Lace up your shoes, choose your distance, and join us at the starting line for an unforgettable Phuket Marathon adventure!
RACE VENUE (START & FINISH LINE)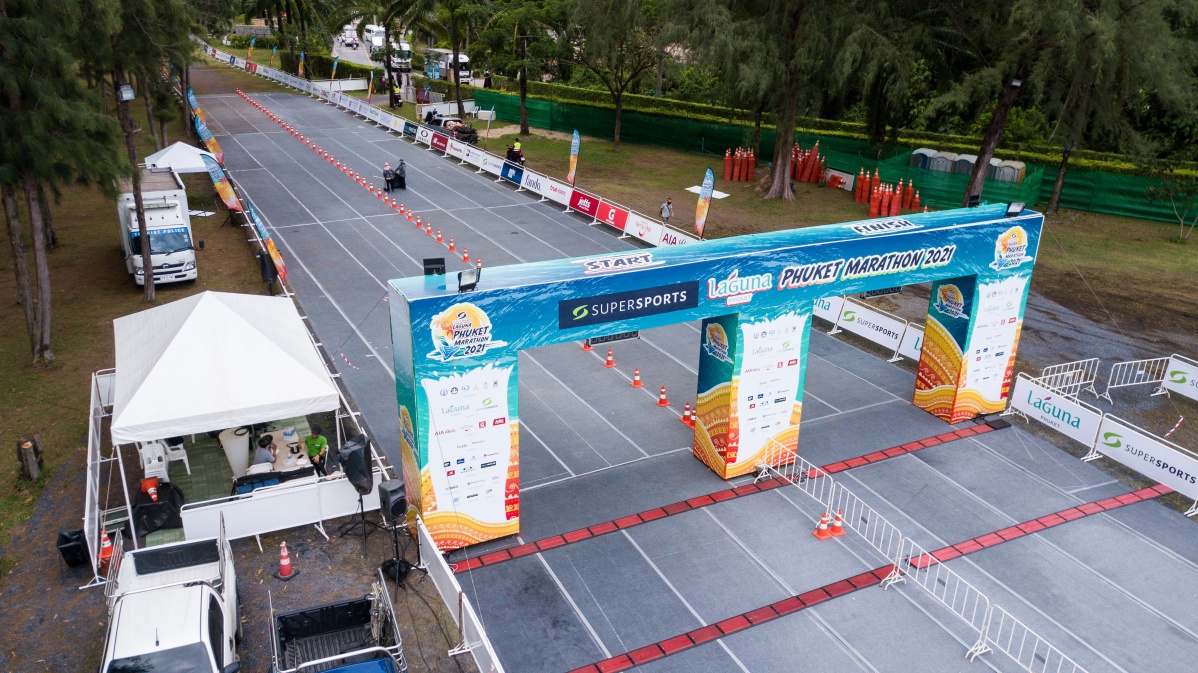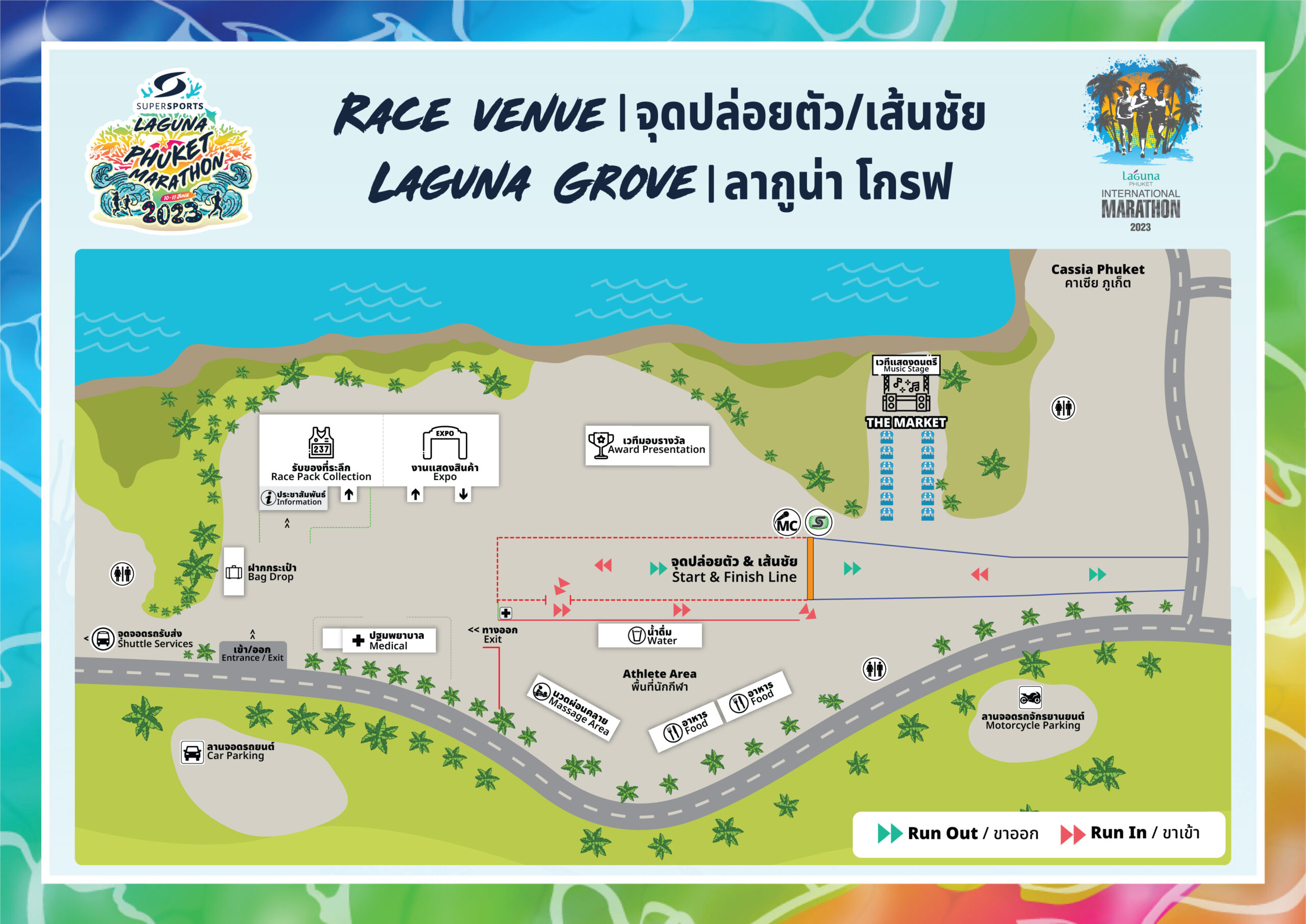 The race course is set against the magnificent backdrop of the lush greenery of Phuket's tropical forests, rubber and pineapple plantations, spectacular beaches, quaint local villages, beautiful cultural landmarks, and, of course, stunning Laguna Phuket. Starting at Laguna Phuket the course heads North East to Baan Don and then North past Thalang onto Nai Yang Beach before turning back to Laguna passing Layan Beach along the way
Medical services will be provided along the course. Ambulances will be located at strategic points with easy access. Runners are advised to carry their own specific prescribed medicines, if necessary. You must stop running the race immediately if required to do so by a member of the official medical staff – this is in the interest of your health and safety.
Medical service is also provided at the medical tent near the finish line for runners who require medical attention.
Aid Stations will be available every 2 – 2.5 km along the course, providing water and isotonic drinks in cups. On the marathon and half marathon course, fruits (bananas and watermelons) will be provided.
Toilets are available on the marathon and half marathon courses.
The course will be marked with distance marking every 1 KM and directional signage.
The course leads through quiet areas of Phuket. Police and race marshals will control traffic along the route. Although the organizer endeavors traffic free course, runners may encounter some light vehicular traffic at some parts of the course.
Available near the starting line on race days. One bag per runner.
Please note that the organizer is not responsible for any lost or misplaced baggage.
A light meal consisting of fruits, noodles, and rice will be provided for runners in the athlete area near the finish line.
Located at the information desk. Any remaining lost items will be transferred to the race office. Please remember to label all of your belongings before the race.
Laguna Phuket, Asia's first integrated destination resort, is a holiday paradise of deluxe hotels and villas spanning 1,000 acres of tropical parkland. Whether you're travelling with friends or vacationing with family, Laguna Phuket offers something for everyone with ample opportunities for fun, romance, relaxation and exploring. Facilities and activities include spas, restaurants, bars, boutique shopping, private charter and join-in luxury tours, daily activities at most Laguna Phuket hotels, canoeing, sailing, resort golf, and (of course) the pristine beaches and azure waters of the Andaman Sea. Book your hotel near the start and finish line now.
Shuttle Buses (within Laguna Phuket)
If you are staying at one of the Laguna Phuket Hotels, free shuttle bus service is available. These buses will circulate between the hotels and race venue within Laguna Phuket.
The Supersports Laguna Phuket Marathon 2023 is not just a race; it's a celebration of community and generosity. Building upon the charitable triumphs of previous years, runners are warmly invited to contribute to the 'Laguna Phuket Foundation', an organization established in 2009 that's steadfast in its commitment to social growth and environmental preservation.
The foundation's heart beats for the local communities, with a strong focus on educational development and societal advancement. The Developing Sustainable Schools Program, including School Partnership Project, Survival Swim with Laguna Phuket, and Laguna Phuket's "Fully Booked!" Mobile Learning Center, symbolizes this dedication. But the foundation's reach extends further, with continued support for the vital sea turtle conservation efforts of Phuket Marine Biological Center and the 3rd Area Naval Command, Royal Thai Navy, as well as the Laguna Phuket Community English Language Center.
The marathon also serves as a stage to uplift and support the 'Children First Fund' (CFF), an initiative that warms the hearts and fuels the dreams of over 400 orphans and underprivileged children across seven orphanages in Phuket. With the inspiring motto of 'Nourishing Hearts, Inspiring Dreams,' CFF makes tangible impacts in the lives of those most in need.
Become a part of this incredible journey by making a donation to the foundation during the online registration process. Your contribution can make waves of change. Join us in this year's Supersports Laguna Phuket Marathon, and run for a cause that goes beyond the finish line.